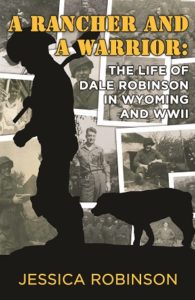 In her book A Rancher and a Warrior: The life of Dale Robinson in Wyoming and WWII, Jessica Robinson describes the life of her grandfather-in-law, as a cattle rancher in Wyoming and as a soldier during World War II. Photographs, both of Dale and of the early days of ranching in Wyoming, abound throughout the book.
Born on 4 June 1925 on a ranch in Wyoming, Dale was raised in the rural way of life. It was the only way of life he believed to be worth living. Wyoming, at the time, was the least populated state in the USA.
By the time he was 10, he was working as a cook's assistant at a local pig farm. By the time he was 16, the United States was plunged into war by the surprise attack on
Pearl Harbor
by the Japanese. Dale's brother was already in the navy but Dale had to bide his time before he could enlist. To complicate matters, he was employed in agriculture and hence his services were valuable at home. Dale removed the complication by training as a welder.
He was barely 18 when he joined the US Army: 313th Infantry, Company H. A Rancher and a Warrior describes basic training in Oklahoma, from handling haircuts to handling the Browning M2HB. Dale trained as a heavy machine gunner.
Dale had been transferred to the 79th Reconnaissance Troop by the time he left for New York City and boarded the British luxury liner, RMS Strathmore, for the voyage to Greenock, Scotland. More training, then France. Crammed with his fellow soldiers in a landing craft, Dale landed on Utah Beach in Normandy a few days after D-Day and was in action a few days later. He took part in the recapturing the French city of Cherbourg, which would become an important port for supplying the Allied Expeditionary Force.
Readers wanting to know more about the Normandy landings will find the section on the hedgerow countryside of Normandy and digging foxholes for the night quite fascinating, as well as the reaction of French civilians, greeting their liberators with cider and aprons full of apples. As expected, casualties among the troops were heavy and new replacements arrived each night. "Sadly, most of them were gone before he [Dale] even learned their first names."
During Hitler's Ardennes offensive, the Battle of the Bulge, Dale found himself fighting in the middle of winter, using his raincoat as a blanket and a tent, and enduring ice and frost when he woke each morning. A shell wound left him with pieces of shrapnel in his thigh that were never taken out.
After VE-Day, he was posted to Czechoslovakia rather than the Pacific. After that, and after three years in the army, Dale was posted home.
Marriage with childhood friend Jayne, then children and the fulfillment of Dale's dream of ranching fill the remaining pages. Anyone interested in a window into the life of a country boy who became a soldier and a soldier who became a rancher and a family man will find this biography enlightening and enjoyable; the personal details and the copious illustrations—old photographs and drawing from World War II—make it so. Dale received the Silver Star and also the British Military Medal, the latter being presented in person by Field Marshal Montgomery. The start of the citation reads:
'For gallantry in action against the enemy on 23 October 1944, in France. During a strong enemy counter-attack, Sergeant Robinson and his heavy machine gun crew were in a concealed position, helping to defend friendly territory. Noting an enemy armored vehicle approaching from the flank, Sergeant Robinson ordered the remainder of the squad to remain in place while he and his gunner (who volunteered) left their concealed position to take up one completely exposed to the enemy. Here they engaged the enemy vehicle in a point-blank duel . . .'