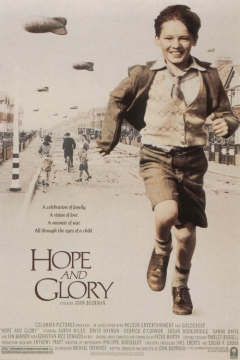 As a boy, I loved Saturday matinees at the 'pictures'—the 'movie house' as Americans would say. Give me a bag of sweets and I was all set for a couple of hours of Hopalong Cassidy.
John Boorman's movie Hope and Glory starts exactly that way. Summer 1939, and 10-year-old Billy is at the movies. The character of Billy is based upon Boorman's own experiences as a boy in World War II London: air raids, rationing, the obligatory gas mask.
Billy's dad enlists but, being a tad too old, ends up as an army office clerk, typing for England. Billy's older sister Dawn dates a Canadian soldier and ends up pregnant. As far as acting goes, Billy's mum (played by Sarah Miles—remember Ryan's Daughter?)  and Billy's granddad (played by Ian Bannen) steal the show.
My favourite scene occurs at the railway station, where Billy's mum is about to ship Billy and his younger sister off to Australia. Confrontation with an officious WA woman and Billy's moaning that he "was going to miss the war" results in a change of mind. Billy and his sister stay put.
The dual threat of the Blitz and Operation Sealion (Hitler's planned invasion of the British Isles) caused many parents to send their offspring out of harm's way, mostly to Canada or Down Under.
One of the unhappiest episodes of WWII occurred this week in the war on 18 September 1940, when the U-48 sighted and sank the British steamship City of Benares. The ship was carrying almost a hundred child evacuees from Britain to Canada. Seventy-seven of the children perished.
The picture to the right shows a sad and (as yet) unrescued lifeboat belonging the the City of Benares.