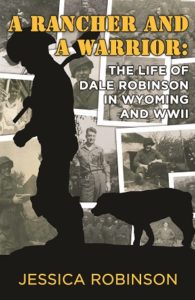 A Rancher and a Warrior: The life of Dale Robinson in Wyoming and WWII
— by Jessica Robinson
In her book A Rancher and a Warrior: The life of Dale Robinson in Wyoming and WWII, Jessica Robinson describes the life of her grandfather-in-law, as a cattle rancher in Wyoming and as a soldier during World War II. Photographs, both of Dale and of the early days of ranching in Wyoming, abound throughout the book.
Born on 4 June 1925 on a ranch in Wyoming, Dale was raised in the rural way of life. It was the only way of life he believed to be worth living. Wyoming, at the time, was the least populated state in the USA.
By the time he was 10, he was working as a cook's assistant at a local pig farm. By the time he was 16, the United States was plunged into war by the surprise attack on
Pearl Harbor
by the Japanese. Dale's brother was already in the navy but Dale had to bide his time before he could enlist. To complicate matters, he was employed in agriculture and hence his services were valuable at home. Dale removed the complication by training as a welder.
He was barely 18 when he joined the US Army: 313th Infantry, Company H. A Rancher and a Warrior describes basic training in Oklahoma, from handling haircuts to handling the Browning M2HB. Dale trained as a heavy machine gunner.
Dale had been transferred to the 79th Reconnaissance Troop by the time he left for New York City and boarded the British luxury liner, RMS Strathmore, for the voyage to Greenock, Scotland. More training, then France. Crammed with his fellow soldiers in a landing craft, Dale landed on Utah Beach in Normandy a few days after D-Day and was in action a few days later. He took part in the recapturing the French city of Cherbourg, which would become an important port for supplying the Allied Expeditionary Force.
Readers wanting to know more about the Normandy landings will find the section on the hedgerow countryside of Normandy and digging foxholes for the night quite fascinating, as well as the reaction of French civilians, greeting their liberators with cider and aprons full of apples. As expected, casualties among the troops were heavy and new replacements arrived each night. "Sadly, most of them were gone before he [Dale] even learned their first names."
During Hitler's Ardennes offensive, the Battle of the Bulge, Dale found himself fighting in the middle of winter, using his raincoat as a blanket and a tent, and enduring ice and frost when he woke each morning. A shell wound left him with pieces of shrapnel in his thigh that were never taken out.
After VE-Day, he was posted to Czechoslovakia rather than the Pacific. After that, and after three years in the army, Dale was posted home.
Marriage with childhood friend Jayne, then children and the fulfillment of Dale's dream of ranching fill the remaining pages. Anyone interested in a window into the life of a country boy who became a soldier and a soldier who became a rancher and a family man will find this biography enlightening and enjoyable; the personal details and the copious illustrations—old photographs and drawing from World War II—make it so. Dale received the Silver Star and also the British Military Medal, the latter being presented in person by Field Marshal Montgomery. The start of the citation reads:
'For gallantry in action against the enemy on 23 October 1944, in France. During a strong enemy counter-attack, Sergeant Robinson and his heavy machine gun crew were in a concealed position, helping to defend friendly territory. Noting an enemy armored vehicle approaching from the flank, Sergeant Robinson ordered the remainder of the squad to remain in place while he and his gunner (who volunteered) left their concealed position to take up one completely exposed to the enemy. Here they engaged the enemy vehicle in a point-blank duel . . .'
A Chill Wind Blows — by Jack Limes
The Second World War ended more than seventy years ago and there is no shortage of photographs of jubilant crowds celebrating the liberation of cities such as Brussels or Paris. The German occupation was over. The Nazis had left. Yet for cities such as Warsaw, Minsk, or Smolensk, although the ousting of the Nazis represented victory after a horrific struggle, there was no liberation of the kind that was experienced in Western Europe. In the East, the tyranny of Hitler's Nazis was replaced by the tyranny of Stalin and by decades of Soviet repression. Life under the Soviets is the subject of the recent novel A Chill Wind Blows by Jack Limes (Austin Macauley Publishers, 2016).
The novel begins in 1929, near the onset of Stalin's collectivization program in which individual ownership of tracts of lands was forcibly phased out in favour of large 'collective farms' which were owned by the state. Love and its ability to survive in the most brutal of surroundings is the theme of A Chill Wind Blows.
Yuri Kazakof is a peasant: he works the land on his father's tiny farm. Existence is hand to mouth. Yuri is powerfully built and he is a fighter in the fullest sense: he knows how to use his fists (and play chess, too!). Nadya Reinhardt is destined to become the love of his life. She is "a beautiful young woman of eighteen with long black hair and intense brown eyes." She lives with her family in Leningrad and is studying violin at the Academy of Arts. Her father, Gustav, lectures on politics at the university and he is German by birth. His country of origin will eventually pose a problem.
However, it is not Nadya's father Gustav, but Yuri's father, Ivan Kazakof, who first falls victim to state oppression. For his connection to a protest meeting, he is sentenced to the gulag for twenty-five years—by command of the new local commissar, General Nikita Sidorov. Since they are related to a 'criminal,' Yuri's family is thrown off their farm. (Later, in a telling act of compassion that stands out in the dehumanizing world that Limes has painted, Ivan forgives the neighbour that brought the original accusation.)
General Nikita Sidorov is a credible villain and there would have been thousands exactly like him: self-serving, ruthless, with no regard for justice or human life. At this stage of the novel, Yuri has been smitten by Nadya and is deeply in love. (Think Lady Chatterley's Lover: a workingman in a relationship with an upper/middle-class young woman, but postpone the sex till later.) Yuri's life is laid out for him and he has three quests: free his father, marry Nadya, and kill Sidorov.
In June 1941, Germany invaded the Soviet Union and Hitler entered into a competition with Stalin for who could kill the most of the Soviet Union's hapless citizens. Being German, Nadya's father is arrested and the family is evicted from their Leningrad apartment.
After a series of arrests and escapes, Yuri and Nadya find each other in Leningrad at the worst time imaginable: the German army has the city surrounded. The siege of Leningrad would last for 872 days and more than a million people would die from bombs, bullets, shells, or starvation. This is not the place to disclose the fate of the lovers or of Nikita Sidorov but only to say that A Chill Wind Blows offers a window on a terrible time in history. Readers will find the content informative and moving.
Spitfire Spies — by John Hughes
There are two intertwining stories within the Second-World-War novel Spitfire Spies by John Hughes (Austin Macauley Publishers, 2016). One story could naively be labeled male, the other, female. The first concerns the men who are sent to England to spy for Germany. Not all of them are German. One, in fact, is English. The other story is about a pair of women pilots who ferry planes for Britain's Air Transport Auxiliary. Each storyline coils about the other, not quite touching until the novel's final and dramatic end.
The spies include Otto von Osten (cover name Ulrich) and Erich Schneider (cover name Ernst). The latter is English and was born Eric Tomlin. His mother was German and he speaks both languages. He plays the trumpet and has moved to Germany to be with his fiercely National-Socialist musician wife, Renate. Eric has changed his first name to Erich and has switched 'Tomlin' for his wife's last name, Schneider, as a gesture of solidarity with the German cause. The mission is to go to England and, by getting hired as factory workers or by other means, to discover the rate of production of Spitfire fighter planes and to pursue any opportunities for sabotage. An air battle between the Luftwaffe and the RAF is looming and both sides believe the Spitfire could affect the final outcome.
Having Germans (or those loyal to Germany) as main protagonists, even heroes, is a central element in Ken Follett's spy novel, The Eye of the Needle and in Jack Higgins's The Eagle Has Landed. Readers who have enjoyed those books will very likely enjoy John Hughes's Spitfire Spies.
The principal women characters of Spitfire Spies are Alison Webb and Heather Norbury, both in the ATA. Both are experienced pilots. Alison was a stunt pilot before the war. Their job in the ATA is to fly aircraft—often biplanes like the Tiger Moth—between RAF storage depots and airfields. Alison dreams of flying a Spitfire but that, of course, is a job for men, for the 'Brylcreem boys' of the Royal Air Force. [The women pilots of the ATA have been celebrated in a series of recent books: Carol Gould's Spitfire Girls, Giles Whittell's Spitfire Women of World War II, Jackie Moggridge's Spitfire Girl: My Life in the Sky, and Jacky Hyams's The Female Few: Spitfire Heroines.]
Readers familiar with the period will appreciate the author John Hughes's attention to detail such as the reference to British comedian Arthur Askey, to the long-vanished Wolseley cars, and to the well-known British traitor whose radio broadcasts became a feature of daily life and whose accent earned him the nickname Lord Haw-Haw. Hughes makes reference to Britain's LDV (Local Defense Volunteers) being renamed the Home Guard, and to Field Marshal Goering being promoted to Reichsmarshall Goering (by Hitler on 19 July 1940). One of the novel's earlier scenes deals with the Wormhout massacre when, during the British retreat towards Dunkirk, SS troops murdered some eighty British and French soldiers who had been taken prisoner.
Thus the novel traces the adventures of Eric and (the somewhat evil) von Osten from Germany to England. Eric gets there via France and the Dunkirk evacuation. The exploits of Alison and Heather are equally engaging. There is no shortage of tension and drama in the ups and down of Spitfire Spies. The love lives of the four protagonists are a source of fascination. Eric, who is having second thoughts about where his loyalties should lie, renounces the voluptuous Renate in favour of Marion Wakeley, a young woman living in the Midlands. She has two small children and no husband. He was one of the unlucky ones. He went to France but never made it home.
Of all the characters in Spitfire Spies, Marion is my favorite. She steals the show, like a 'Best Supporting Actress' who truly shines. "A young woman's voice; a naïve sounding voice, like an adult imitating a girl," is how Eric first experiences her and Hughes first describes her. And then later: "wild for a few boundless moments" during a tender love scene.
Spitfire Spies has a lot to offer. Readers, regardless of whether or not they are fans of the World War II genre, will find the book enjoyable.
Hotel Boy — by John Trythall
The novel Hotel Boy by John Trythall (Austin Macauley Publishers, 2013) takes the reader through the early years of the Second World War from the viewpoint of ten-or-so-year-old Michael Treloar. In that sense, Hotel Boy can be compared to John Boorman's Hope and Glory, which is another account of wartime boyhood (although a film, not a novel).
Hotel Boy introduces an interesting and unusual perspective in that the setting is a hotel (smallish, almost a boarding house) in the English seaside town of Forbury. Michael's father was killed in 1940 while serving in France with the British Expeditionary Force. Michael and his mum are uprooted from their home and transplanted to Roselea, where Michael is dismayed to learn that he is not to have a bedroom of his own. His sleeping quarters will be in the hotel's hairdressing salon, run by the hotelkeeper's daughter, Lorna. (Why is it that fictional boy heroes so often find themselves lacking a bedroom? Harry Potter slept in a closet beneath the stairs!)
Trythall cleverly keeps pace with wartime goings-on through quotes from Churchill's speeches. My favorite, given at the beginning of Chapter 10, is from Churchill's 1941 speech to the boys of his old school: "These are not dark days; these are great days—the greatest days our country has ever lived;"
The experience of the times is evoked in many small details. A radio really was called a wireless, and there was a warming-up period between turning (switching) on the radio and being able to hear any sound; the valves (vacuum tubes to Canadians and Americans) needed time to heat up and become active. Unless you kept chickens of your own, egg powder would be your wartime substitute for actual eggs. Coupons were needed to buy clothes, or to buy almost anything at all: meat, poultry, sugar, coal, . . . The list was long.
Tidbits mentioned in the book include listening to radio broadcasts from Germany by Lord Haw-Haw, the British traitor whose 'la-di-dah' accent so amused the British public. A less well known tidbit is the bombing raid by Vichy French aircraft against Gibraltar—retaliation for the Royal Navy's attack on the French naval base at Oran.
The author never lets us forget that Michael is a boy and is doing boy's stuff. This includes reading the 'Just William' books. These were written by female author Richmal Crompton and might be considered the Harry Potter books of the time. She wrote over forty of them, beginning in the nineteen twenties and ending in the early seventies. Just William is the title of the first book. Michael, our boy hero in Hotel Boy, sees the resourceful, up-for-anything William as his role model and tries to live life accordingly.
His life, of course, is impacted by those around him. The central theme of Hotel Boy revolves around the microcosm of society represented by the people of Roselea: guests arriving for the weekend, guests who stay year round, the owner and his wife, their daughter, the RAF pilots who are regular customers at the hotel bar, their girlfriends, the RAF Wing Commander who is the love interest of Michael's mother and, of course, Michael and his mother, themselves, whose relocation from the city gives them a status akin to being refugees. Toss in violent death, youthful sex, jealousy, and unwanted pregnancy, and one has an entertaining piece of fiction that closely mirrors life.
All in all, if you were fortunate to have lived during "the greatest days our country has ever lived," or if your parents or grandparents lived through those times, or if you are simply curious, you will find Hotel Boy by John Trythall both enjoyable and informative.
Shadows in a Photograph — by David McMichael
The novel Shadows in a Photograph by David McMichael (Austin Macauley Publishers, 2016) describes life from the viewpoint of Peter Waring. The story begins not too long after the Great War ends and focuses at first on Peter's boyhood exile to Cumberland. He and his mother must leave London to live, fatherless and husbandless, with relatives in the north of England. McMichael is a master of setting. His description of Peter's departure from the railway station and the locomotive, "A black monster, it stood there, wisps of steam escaping with a faint hiss from around its pistons" evokes Harry Potter's departure for Hogwarts.
In Cumberland, Peter meets two girls: the tomboy, Jamie, and the pretty and somewhat older, Jordan. They resurface later as young women as the story follows Peter into medical school and into the Royal Air Force as an RAF doctor attached to Bomber Command.
Second World War afficionados will appreciate how McMichael lays out the familiar milestones of those early years of war: the removal of signposts throughout the British Isles, the Blackout, Dunkirk, London's Windmill Theatre (famous for never closing), the fifty destroyers that Roosevelt sent in answer to Churchill's plea, Churchill himself, his speeches, the importance of radar ('RDF,' so-called), the 'Famous Few,' including Douglas Bader—the pilot who had lost both legs, the controversy of Leigh-Mallory's 'Big Wing,' and then how, at the crucial stage of the Battle of Britain, Hitler ordered his Luftwaffe to switch from attacking Fighter Command airfields to bombing London.
Back then, everyone in Britain would likely have been a fan of 'ITMA'—'It's That Man Again,' the hugely popular radio (wireless!) show starring comedian Tommy Handley and his gang of characters. Their catchphrases were famous throughout the war years and McMichael refers on more than one occasion to ITMA's memorable Mrs Mopp: "It's being so cheerful what keeps me going;" Also: "Can I do you now, Sir?" And let's not forget: "TTFN," which, as everyone should know, stands for "Ta ta for now."
On a more tragic vein, McMichael's novel dwells, from time to time, on the horrible burn injuries that can be sustained by aircrew when their planes catch fire. The achievements of the East Grinstead burns unit plastic surgeon, Archibald McIndoe, feature prominently in the book. Of course, the novel's lead character, Peter Waring, becomes a doctor himself, and readers will expect some in-depth details of the doctoring life. They will not be disappointed by the amputation scene or by the delivery of a baby.
McMichael's novel is a compendium of compelling scenes, rendered with astonishing care: A WAAF nurse gives Peter his first experience of sex ("Here, let me show you what a woman likes. This woman at least."); a close call with an exploding bomb ("He could see nothing other than a blood-red curtain, hear nothing but a ringing as if all the bells in the world had been set in motion, . . ."); Peter and Jordan kiss each other (". . . frantically, violently, almost brutally, open-mouthed, . . .").
Later in the novel, Peter's flight in a Wellington bomber on a mission over Stuttgart ends with a crash landing in northern France. Peter and the Wellington's pilot, Beal, are taken in by Marie-Louise who works for the French Resistance. The chapters that follow are among my favorites and remind me, in some ways, of Flying Colours, one of the Hornblower novels by C.S. Forester. In Forester's novel, the Royal Navy's Captain Horatio Hornblower is in France with wounded fellow officer, Lieutenant Bush, and they are hiding from Napoleon's troops—just as in McMichael's novel, RAF Flight Lieutenant Peter Waring and wounded fellow officer, Squadron Leader Beal, are hiding from the Nazis. Both heroes find themselves houseguests of beautiful women: Marie in Hornblower's case, and in Waring's case, her name is Marie-Louise. The similarities soon end, but the comparison is interesting and entertaining, as is McMichael's entire novel, from start to end: Rich in detail, Shadows in a Photograph by David McMichael is a fascinating and moving novel that embraces the gamut of emotions.
'Le Vol du Corbeau' ('The Flight of the Raven') by Jean-Pierre Gibrat
One day, if I write a spy story in Nazi-occupied Paris, with a bright young heroine named . . . maybe her name doesn't matter, but I would definitely write a scene where she escapes over the rooftops exactly as Jean-Pierre Gibrat's heroine, Jeanne Cadrieux, does in Gibrat's two-volume bande dessinnée titled Le Vol du Corbeau (The Flight of the Raven) [Aire Libre Dupuis, 2002]. By the way, Le Vol du Corbeau is a sequel to Gibrat's, Le Sursis, which tells the story of Jeanne's sister, Cécile.
Jeanne is shown on the cover of Volume 1 of Le Vol du Corbeau, clinging perilously to the side of a building, high above Paris. (Those white gloves will get awfully dirty, Jeanne!)
Gibrat is the unquestioned master of setting. Volume 1 of Le Vol du Corbeau takes place mostly on the rooftops, among the chimney breasts of Paris's ubiquitous Mansard roofs. Volume 2 is set largely on the river, aboard one of the Parisian barges that sail up and down the Seine.
The story in a nutshell:
Volume 1 of Le Vol du Corbeau begins with Jeanne in jail. She has been reported for black market (marché noir) activities and the police have searched her apartment and have discovered a cache of weapons. Jeanne is working for the French Resistance.
While the local police chief ponders whether or not to hand her over to the Gestapo, a burglar named François Michaud is tossed into Jeanne's cell. François helps her to escape and the two of them flee over the rooftops.
François then takes her to his friends, who own a barge. They sail away from Paris.
Complication of Volume 2: A German soldier is stationed on board the barge. Further complication: Jeanne shoots him when he tries to force himself upon her. What to do with the body?
It is never good to tell an ending. Please read the book. It is well worth it. [Only available in French, I believe.] Those who would like to see Jeanne and her sister, Cécile, reunited will not be disappointed, neither will those who would like to see Jeanne and François become lovers.
'And Some Fell on Stony Ground' by Leslie Mann
Their country was likely doomed and within the month, or several months at most, they would almost certainly be dead. And still they volunteered. In the early days of the Second World War, the young men of Britain's RAF Bomber Command took to the skies in obsolete aircraft and, night after night, flew out over Germany and Nazi-occupied Europe. The damage they inflicted was insignificant. They message they delivered was monumental: It told the enemy and the neutral countries of the world and also those countries of Europe that had succumbed to Hitler's Blitzkrieg that Britain was still in the fight and was striking back.
In 1941, Flight Sergeant Leslie Mann was such a young man. He was a tail gunner in an Armstrong Whitworth Whitley twin-engine bomber. The Whitleys were awkward-looking planes that were out-of-date before the war had even started. They had none of the caché of the later Wellingtons or the fame of the Lancasters, Halifaxes, and Stirlings that were to put in solid service nearer to the end of World War II. Leslie Mann's plane was shot down over Dusseldorf and, after the war ended, he described his experiences in a fictional memoir that remained unpublished until 2014: And Some Fell on Stony Ground:A Day in the Life of an RAF Bomber Pilot—A Fictional Memoir by Leslie Mann (Icon Books in Association with Imperial War Museums, 2014). British historian Richard Overy has written a masterful introduction.
A series of striking photographs add value to the book and reveal that author was an eye-catchingly handsome man, even Clark-Gable handsome. His text dispels, in the first few pages, the fiction of the glamour of war. Leslie Mann's book is about the everydayness of war, the drudgery of war, the routine, the cold, the exhaustion, the moments of terror, the fear of disfigurement. 'The sky could kill him whenever it wanted to,' muses Pilot Officer Mason, who is Mann's fictional hero (or anti-hero, as Richard Overy shrewdly puts it).
The book has its touching moments: the scene at the shop where the woman behind the counter takes pity on Mason and sells him a pack of 'under-the-counter' cigarettes, or at the dance when Mason notices the 'girl in green' but sees no point in pursuing her, realizing that he does not have the luxury of a future.
Descriptions are sometimes whimsical, like that of Mason's buddy, Simpson: 'He had those funny shaped eyebrows that made him look perpetually worried. And enormous feet.' When a 'first-tripper' asks Mason what it will be like to fly on a mission, words such as 'sickening,' 'bloody awful,' and 'fatal' flash through Mason's brain. Eventually, he just says, "Oh, not so bad. A bit shaky sometimes."
Above all, the book is marked by its realism, the fiery crash that kills Mason's friend, Ken, the nightmarish take-off and engine trouble that caused Mason's plane to turn back and crash-land near the Pennines, the attack on the German oil refinery '…the aircraft stalled and hung in mid-air, then lurched horribly…'—all authentically described by a man who was actually there.