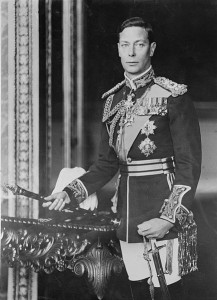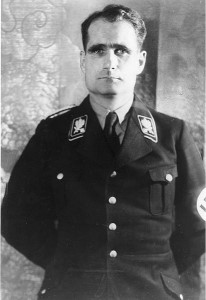 No two men were as different as King George VI of England and Rudolf Hess.
They had nothing at all in common,
—except that both were largely of German descent (George through George I of Hanover and through Queen Victoria's Prince Albert; and Rudolf through his regular mum and dad);
—and except that both were, at one time, deputy rulers of their respective countries (George originally being second to his brother, Edward, who briefly ruled as Edward VIII; and Rudi being Deputy-Fuehrer, second in line after Hitler);
—and except for the fact that both had mind-boggling changes in destiny (George, against all expectations, becoming king after an unprecedented abdication by his brother; and Rudolf gambling everything on an ill-fated flight to Scotland, resulting in his being locked away in prison for the remainder of his life [which was rather English, come to think of it; Richard III would have totally approved]);
—and except for the fact that in 1940 both men broadcast Christmas messages to the people of their respective nations.
Deputy-Fuehrer Hess's broadcast was on 24 December, Christmas Eve/Heiliger Abend which, in Germany, figures significantly in the Christmas celebrations. A traditional meal of carp and potato salad forms part of the festivities.
Hess told the people of the Third Reich that God had turned against England and that, since the Almighty had created Germany, it followed that serving Germany was equivalent to service to God, Himself.
One day later, on the roast chicken (as opposed to carp and potato salad) side of the English Channel, King George VI spoke bluntly but with cautious optimism. He told his people that the future would be hard, but that their feet were planted on the path to victory. He did not share Hess's take on God's view of the war, but maintained that it was the British who would be the beneficiaries of the Almighty's help.
Anyone who has seen the 2010 movie The King's Speech knows that King George VI had a chronic stammer that made public speaking extremely difficult. The movie describes how the King  (played by Colin Firth) hired an Australian speech therapist named Lionel Logue (played by Geoffrey Rush) to help control the impediment.
To hear one of the King's speeches from earlier in the year, check the following Pathe News recording.