Who said that tragedy is later re-enacted as farce? Maybe Hegel said it. Or was it Marx?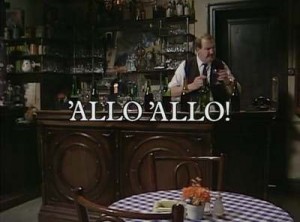 Either way, the TV comedy 'Allo 'Allo! fits this idea to a teacup, and is the kind of classic farce that only the Brits can get away with. The setting is WWII Occupied France, the Dark Years, l'Ombre as the French would say. Their country is the obvious choice for venue, given the UK was never occupied by the enemy—save for the Channel Islands. (See my post of 25 June, 'A policeman's lot…') . Crumpets and scones on the Jersey seafront would lack the caché of French wine, women and song, and the chequered tablecloths and onion-sellers one encounters at René's café, which is the centre of most of the action in 'Allo 'Allo!
Here is the plot in a nutshell (but, as the show's 'Michelle of the Resistance' says repeatedly: 'Listen very carefully, I shall say this only once.') :
René Artois runs the local café and is resigned to make the best of things, accepting the bumbling German colonel, von Strohm, and his equally bumbling officers as customers, whilst trying to keep his affairs with his two waitresses secret from his wife who, in turn, is being wooed by the ageing undertaker, Monsieur Alfonse. Toss in a pair of stranded British airmen (named Fairfax and Carstairs, what else?), a flamboyantly dressed Italian captain, and the women of the French Resistance (two kinds: Communist and Gaullist) in their own special 'uniform' of burberrys and berets, and one has a recipe for laughter with lots of dress-up. Plus I haven't even mentioned the limping Herr Flick of the Gestapo and his limping sidekick, von Smallhausen.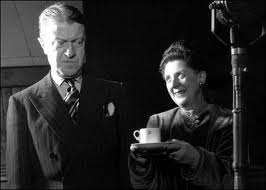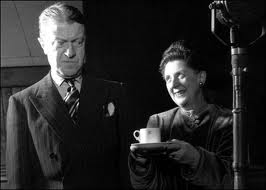 Before I leave my favourite spoof of the war, I would like to pay homage to ITMA ('It's That Man Again'), the show that delighted listeners to the radio—wireless I should really say—in World War II Britain. Tommy Handley was the star and, as with 'Allo 'Allo!'s 'Listen very carefully, I shall say this only once', there were catch phrases aplenty: from Mrs Mopp's 'Can I do you now, sir?' to German spy Funf's 'Dis is Funf speaking.' I've never seen Funf—and how could I because he was only on the radio and, in any case, I'm too young—but I imagine that he looked a lot this picture of von Smallhausen.
So…, as Mrs Mopp would say, 'TTFN' (Ta ta for now).