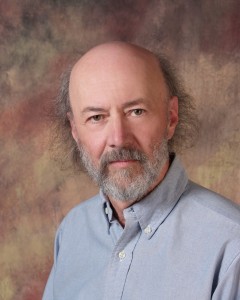 Can young love be stymied by social media, by the likes of Facebook and twitter? If this theme intrigues you, if you are interested in what happens when a nerdy student investigates his potential girlfriend online, then read my newest short story, Coffee with Luna. It has now appeared in Alfie Dog Fiction.
For some years, I have been a professor of mathematics and computer science at Brandon University in Manitoba, Canada, editing books and publishing in journals, as the profession would demand. My interest in creative writing dates from my early twenties. I have written various short stories and co-authored a screenplay for a short television movie that recreates Shakespeare's Macbeth in an orbiting space station.
My interest in all things relating to World War II—books, movies, museums—dates from earlier still, from when I was a boy. My most recent, and longer, creative work imagines a young woman, newly recruited to the Allied cause, and an Austrian schoolteacher. Their mission takes them from the D-Day invasion of Normandy to the death throes of the Nazi regime in the ruins of Berlin.
My blog, Second by Second World War, provides a week by week account of the people, places and events as they came to the fore in the news and newsreels of seven decades past. Vignettes and reviews of books are included, from time to time.
Contact information:
Email:     williams@brandonu.ca
Phone:    204 728 7877
Website:  http://www.jeffwilliamswriter.com
Facebook:  http://www.facebook.com/jeffwilliamswriter
Second by Second World War Facebook Page